Association for Information Systems
Association for Information Systems
It is the mission of the Association for Information Systems (AIS) to provide superior leadership and education in Information Technology.
Power Through Partnerships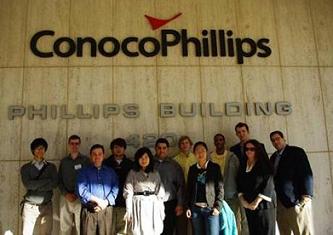 AIS is dedicated to using the synergy of Information Technology partnerships to provide education and benefits to our members and to working with the industry to assist in the overall promotion and direction of Information Technology.
2015-2016 AIS Leadership
Madison Wall, President
Nick Yarbrough, VP Operations
Russell Jacobs, VP Operations
Jonathan Ma, Secretary
Christine Feng, Treasurer
Marlo Gohla, VP Professional Community Development
Annalisa Scharff, VP Membership Development
Faculty Advisor
Dr. Susan Bristow
Expanding Your Potential
AIS is the professional association comprised of career minded individuals who seek to expand their potential -- employers, employees, managers, programmers, and many others.
The organization seeks to provide avenues for all members to be teachers as well as students. In addition, members can make contacts with other members in the IS field, to become more marketable in rapidly changing technological careers.
We have awarded the ConocoPhillips Scholarship to Tianfan (Tim) Fang and Phillips 66 Scholarships to Danielle Martin and Darnesha Martin. All three are outstanding AIS members. Congratulations Tianfan, Danielle and Darnesha!
Upcoming Events:
IT Executive Form
12:30 - 1:30 pm
RCED Auditorium
Free
IT Networking Reception
1:30 - 2:30 pm
WJWH 203
For ISYS Majors, ISYS & ERP Minors, ERP & BI Certificate Students ONLY - pick up tickets in WCOB 204.
Saturday, October 4th - Intro to Excel
10:00 am - Noon
WCOB 247
Pick up tickets in WCOB 204 and pay $10 at the event.
Contact Information

Facebook: https://www.facebook.com/uarkais
E-mail: ais@walton.uark.edu